Heat Treatment Services We Offer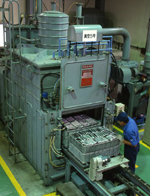 ◆ Vacuum Heat Treatment
Heat treatment processes with a particular emphasis on surface oxidation prevention. These include vacuum quenching, vacuum annealing, solid solution hardening, and precipitation hardening.
We use nitrogen gas, argon gas, quench oil, and others as cooling media and handle a wide range of steel grades. We are accredited by Nadcap for this process.
◆ Aluminum Alloy Heat Treatment
A popular treatment for aerospace components, this includes both solution and aging treatments. We at Tamayakin pride ourselves on providing aluminum heat treatment services of the high standard required for treating aerospace components. There are remarkably few specialized heat treatment manufacturers that are able to conduct related operations for small lot components of aluminum alloy in a short period of time while conforming with Nadcap requirement, making our company indispensable to aircraft and defense-related industries.
◆ Controlled Atmosphere Heat Treatment
We provide services in carburized quenching, gas nitrocarburizing, normalizing, and annealing of steel through a controlled atmosphere setting. We are accredited by Nadcap for nitriding, and hardening of steels.
Our Facilities
Heat Treatment Facilities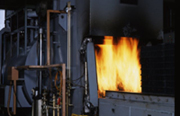 Our range of facilities ensures we are capable of meeting client demands for quality as needed in treating aerospace components and other products.
◆ Vacuum Furnace
We have 6 quenching furnaces. We use nitrogen gas, argon gas, and quenching oil as cooling media and offer vacuum heat treatment services for lots in a wide range of sizes, shapes and steel grades.
◆ Aluminum Heat Treatment Furnace
We also provide solution treatment services for sheet metal where the required quench lapse time is under 5 seconds. Solution treatment where distortions are minimized through water-spray cooling is also available.
◆ Controlled Atmosphere Heat Treatment Furnace
We provide controlled atmosphere quenching of structural and tool steel, carburizing of low carbon steel, and gas nitriding and gaseous nitriding for a range of steel grades.
Inspection and Testing Facilities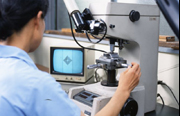 ◆ Hardness Testers
All hardness testers, including Rockwell, Micro Vickers, Shore and Brinell are managed with the precision required by ASTM standards.
◆ Metal Microstructure Testing Machines
Inspection and recording of images of metal structures with sample cutters, sample mounting machines, polishing machines, metallurgical microscopes and other devices are available.
◆ Tensile Testers
Tensile tests of up to 10 tons in compliance with ASTM standards are available.
◆ Electrical Conductivity Testers
During our aluminum alloy heat treatment inspections, electrical conductivity can also be measured as necessary per ASTM standards..